Graduation 2014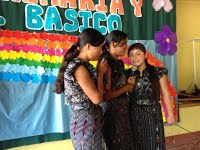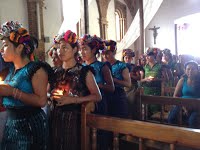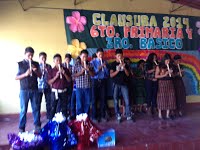 Dear Supporters:
Vicki and I returned on November 4 from 16 days in Guatemala. As always, we encountered many challenges, but came away encouraged by much that we saw.
The clausura or graduation ceremony was marvelous again this year. The entertainment prepared by the students was better than ever, including a flute orchestra led by Carlos, one of our newer teachers, playing the Guatemalan national anthem.
We watched 2 students graduate from our primary school (One was about 40 years old!) and 17 graduate from middle school. We also visited with several of our 45 boarding school, high school and university scholarship recipients.
Our biggest challenge continues to be declining enrollment in our primary and middle school, perhaps because our program is relatively demanding and families often don't yet appreciate the difference between a diploma (viewed as a ticket to non-subsistence employment) and a good education.
Our program continues to incur zero administrative overhead and our per-student cost at the school continues to be well below the cost of a scholarship. We also continue to survey our families to better understand their reality and to encourage them to demand a quality education for their children."
Carmen Medrano Yac is the new directora of our program replacing Manuel Mejia Sam who took on the directorship of the local cooperativa or savings and loan association. It's a real compliment to our program that we were able to prepare him for this important work and Carmen is off to a great start. We were able to obtain a visa for Carmen so she returned to the States with Vicki and me and is going to spend her "summer" vacation studying English here in Kalamazoo and meeting some of our donors. Carmen and I have had many good conversations and I'm impressed with her intelligence, dedication to her new position and maturity. I'm expecting great things from her.
While there Vicki and I made a trip to Quetzaltenango in order to meet Steve Barrett, a North American who has been in Guatemala teaching teachers to teach for 35 years. We also met in the capital with Rosa Beatriz Castenada, a retired school principal who collaborates with Steve. Steve invited our teachers to participate in a multi-day seminar he is helping to host in Quetzaltenango in February and he and Rosa Beatriz offered to lead a couple of workshops in San Andres for our teachers during the next school year. I'm very grateful our teachers are going to get this kind of quality help improving their pedagogy.
We are continuing to work on expanding our Board of Directors so if any of you are interested, please contact Bruce (officebmartin@gmail.com; 269,267.4140) or Maggie (scderrfoundation@gmail.com; 917.974.7378).
Sister Celeste Derr and I exchange emails from time to time and she sends her greetings and best wishes to all of you.
Warm regards,
Bruce Martin